Budget Updates
A Message from the Commissioner on the 2016 2nd Special Legislative Session (6-24-16)
__________________________________________________________________
BUDGET UPDATE (6-14-16)
Case for Funding Louisiana Higher Education
---
BUDGET UPDATE (6-9-16)
Higher Education Funding Status
---
BUDGET UPDATE (4-12-16)
Governor Edwards and Commissioner Dardenne presented the FY16 -17 updated Executed Budget during the Appropriations Committee meeting. The impact on public higher education is summarized below:
The State General Fund (SGF) for higher education has increased by $134M since the original executive budget presentation. Of this amount, $9M is earmarked for specialized institutions ($4M for LSU Ag Center; $1M for SU Ag Center; and $4M for Pennington).
For FY 16-17, higher education's budget will be reduced by $46.1M (or approximately 6%). Additional adjustments to higher education's budget may occur as a result of the legislative session(s).
For FY 16-17, TOPS will be funded at $110M ($50M SGF and $60.3M TOPS fund). An additional $183.2M is needed to fully fund TOPS at the current level of funding. Please note that there are several legislative instruments being considered that may alter the distribution methodology and/or funding level for TOPS. Also, GO Grants will be funded at the current FY 16 level of $26.4M.
---
BUDGET UPDATE (3-24-16)
For the current year, Louisiana Higher Education will have a reduction in the amount of $28 M in TOPS funding. See below for a statement from Commissioner Rallo.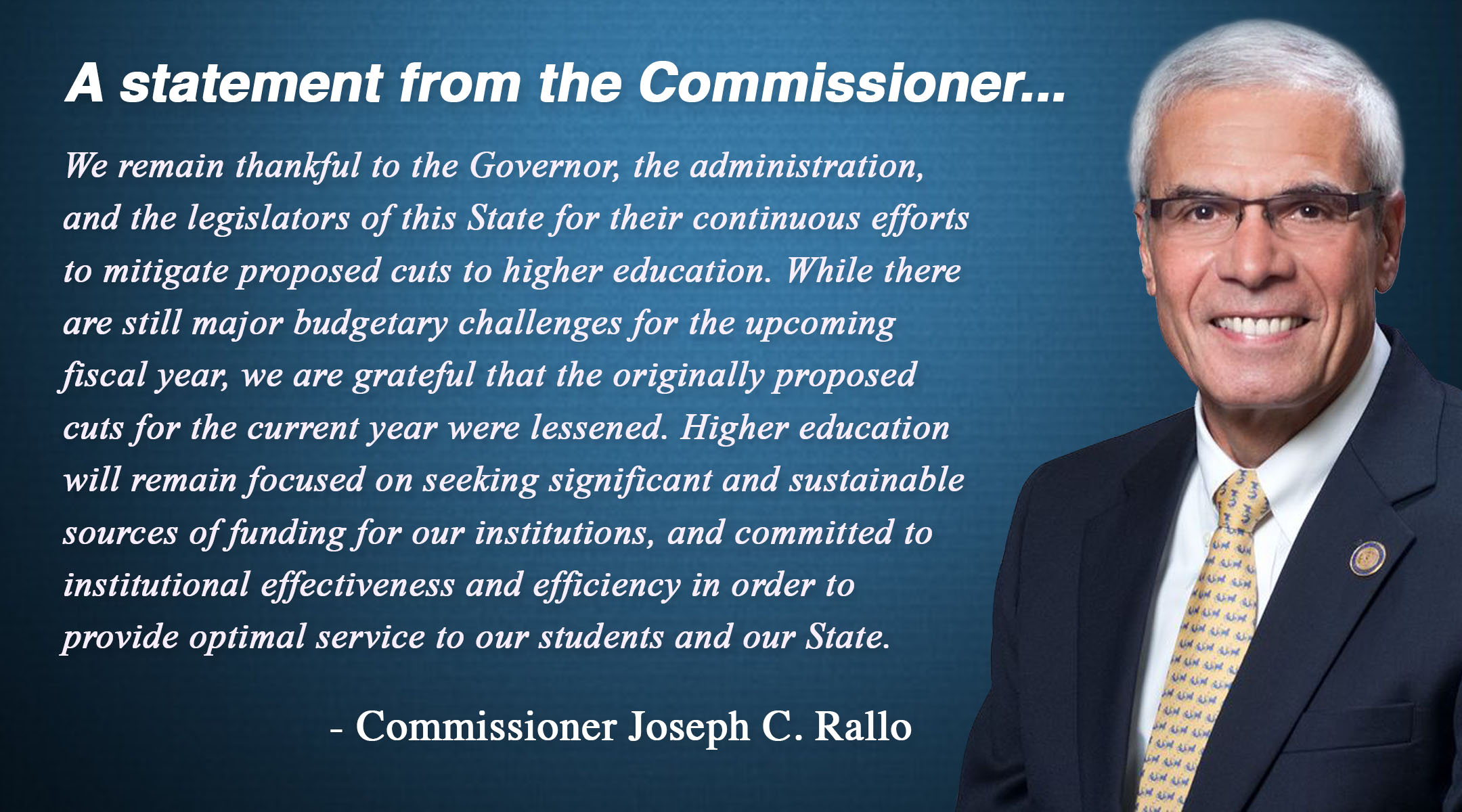 ___________________________________________________________________
Louisiana Colleges and Universities are potentially facing millions of dollars in mid-year budget cuts plus TOPS supplemental. This could be the largest mid-year cut in the history of Louisiana Higher Education with major implications on our institutions. See the links below to find out more….
Letters/Correspondence
Letter from the Division of Administration - January 21, 2016
Letter from the Chair and Commissioner - January 25, 2016
Letter to Commissioner Dardenne on Budget Impact on Higher Education - February 11, 2016
Letter to Commissioner Dardenne from SACSCOC - February 11, 2016
Letter to Dr. Rallo from Commissioner Dardenne on Budget Update February 11, 2016
$86.8M System Mid-year Reduction Plans (March 7, 2016)
LCTCS
LSU System
SU System
UL System
$42M System Mid-Year Budget Reduction Plans (February 23, 2016)
LCTCS
LSU System
SU System - supplemental information - TOPS Narrative
UL System
$131M System Mid-Year Budget Reduction Plans (February 8, 2016)
LCTCS
LSU System
SU System
UL System
2016 Press Releases on the Budget
Board of Regents warns of serious adverse impact of budget shortfalls on higher education
Louisiana Council of Student Body Presidents
Resolution on Louisiana Budget Priorities
Resources
Talking Points for Students
Talking Points for Business & Industry
Talking Points for Faculty & Staff
Landscape of Louisiana Higher Education (Slide Deck) *Updated 5/2016
Budget FAQs- Office of the Governor